Before pop and hip-hop hit the mainstream, rock music dominated the music scene. It's the only genre defined by its musical instrument: the electric guitar.
From the energetic and heavily accented beat of rock-'n'-roll, the genre redefined and reinvented itself into numerous sub-genres and styles. Today, rock still remains one of the most popular music genres, with nearly a third of all streams in the US.
Music consumers have their own unique definition of rock music, from rough and raucous to exhilarating and reverberatingly loud. But what is rock music, exactly, and how did it come to be?
What Is Rock Music?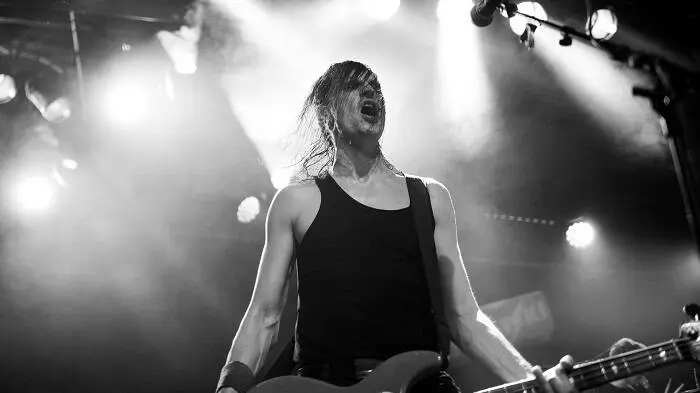 Rock music is a broad genre of popular music, often defined by its overall rhythm and aesthetic rather than its melody and musical features. It originated from rock-'n'-roll and pop in the late 1940s and early 1950s.
Throughout the years, rock music spawned dozens of sub-genres, ranging from intricate folk rock to death metal and everything in between.
Brief History of Rock Music
The history of rock music is as extensive as its long list of dedicated musicians. We could probably write an encyclopedia's worth of information about its constant evolution and reinvention, but for now, we'll stick to the basics.
1940s
Rock music stands in the foundations of rock-'n'-roll, which originated in the US during the late 1940s and early 1950s. The genre stemmed from various musical genres of the time—rhythm and blues, gospel music, and country—and morphed into a new sound characterized by steady drum beats and electric guitars.
Largely sparked by Black musicians, the term rock-'n'-roll is supposedly derived from an African-American slang for sex. Although it was first catered to Black listeners, the genre quickly formed a multi-racial audience.
1950s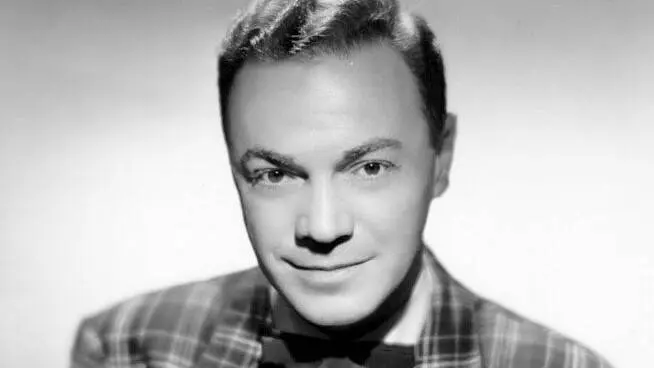 Cleveland-based DJ Alan Freed, along with a number of influential DJs in Memphis and Nashville, played a critical role in popularizing and spreading the genre.
During such a conservative age, the transition from soft blues and pop to rock's aggressive attack was jarring to the older generations. Rock-'n'-roll's raw energy and sexualized lyrics were blamed for the erosion of traditional values, especially among teenagers.
More than anything else, rock-'n'-roll was criticized for its brash and rebellious behavior, especially as most rock artists at the time showed little respect for tradition or upper-class social norms.
Even the genre's dance was considered lewd, as it involved all kinds of gyrating and bending.
Despite that, the heady mix of postwar permissiveness and sexual freedom were embraced by youngsters. Soon, rock-'n'-roll became the genre of the new generation. With its simple but memorable chord structures and stomping 4/4 beats, rock-'n'-roll was undeniably contagious.
It spread like wildfire; rock-'n'-roll music played on every other radio station, dinner, and skating rink. By the end of the 1950s, there wasn't a single American that hadn't heard of it.
Chuck Berry, as well as Fats Domino and Little Richard, were some of the earliest rock-'n'-roll musicians of the time. They heavily leaned on the structures of classic blues and turned it into music that was perfect for dancing.
Another memorable figure was Elvis Presley, who not only became an early sex symbol but was also immortalized as the "King of Rock-'n'-Roll." His sexually provocative performance style and energized interpretations led him to both success and controversy.
Elvis freely talked about the influence of African-American blues, Southern country, and Christian gospel on his music and in interviews. His songs helped the music industry focus its attention on blues and R&B.
Early 1960s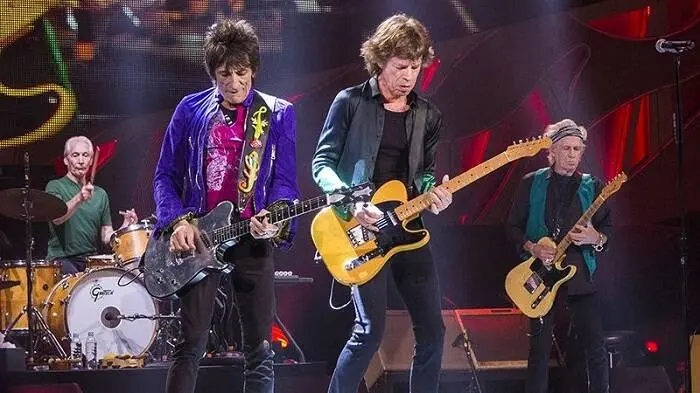 By the 1960s, rock-'n'-roll was slowly losing both record sales and artists. Little Richard had quit the music industry, Elvis was in the army, and Buddy Holly, as well as Ritchie Valens, died in a tragic plane crash.
To preserve the art of rock-'n'-roll in the US, the genre was split into two contrasting genres: pop and rock music. Pop was bubbly, tame, and censored, designed to appeal to a wider audience. Rock retained more of the gritty essence of early 1950s rock-'n'-roll.
In the UK, rock-'n'-roll slowly began entering the scene. Skiffle bands and young musicians studied the music and soon learned to play it.
Before long, they were combining the older styles of American R&B with rock-'n'-roll, developing a subgenre called Merseybeat or, simply, British beat. Some of the most successful Merseybeat bands at the time were The Beatles, Pink Floyd, and The Rolling Stones.
During the Summer of Love, British rock music was greatly influenced by the hallucinogenic drug scene and British psychedelia.
Pink Floyd dropped their trippy studio album "Ummagumma" while The Beatles, around the same time, released their eighth studio album "Sgt. Pepper's Lonely Hearts Club Band."
Both albums received multiple awards and even spent weeks on the Billboard Top LPs chart in the United States.
Late 1960s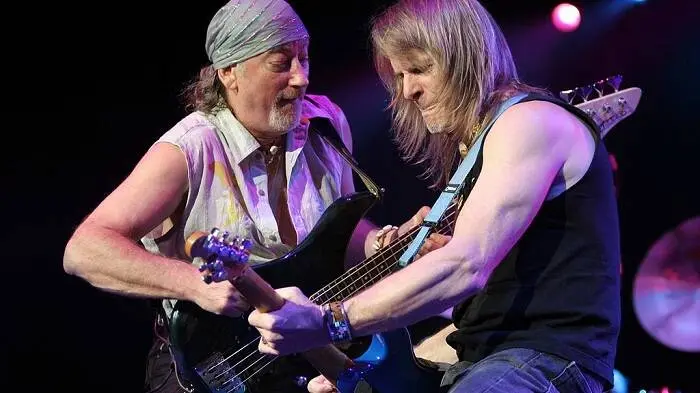 In the mid-1960s, a new subgenre of rock music emerged: hard rock. Hard rock was influenced by the psychedelic, garage, and blues rock movements. Unlike classic rock-'n'-roll, hard rock was characterized by aggressive vocals, distorted electric guitars, and drums.
Early hard rock pioneers included Led Zeppelin, Steppenwolf, Deep Purple, Black Sabbath, and Golden Earring.
In 1969, Jimi Hendrix, a former US soldier, played an incendiary instrumental version of "The Star-Spangled Banner" in protest against the Vietnam War. It was among the single greatest moments of the 60s. Many believe that his song marked the genre's coming-of-age.
"You finally heard what that song was about," Al Aronowitz, New York Post pop critic, wrote, "that you can love your country, but hate the government."
Shortly after his anthem received worldwide exposure, Hendrix died 13 months later. He was only 27.
Nonetheless, his legacy and influence live on. Even today, Hendrix is widely regarded as one of the world's most creative rock-'n'-rock electric guitar players.
1970s
By the 1970s, hard rock was split into smaller subgenres, including soft rock, heavy rock, and heavy metal.
Black Sabbath helped create the rough style of heavy metal by mixing power chords and hard-rock guitar riffs with heavy bass sounds and drum beats. Led Zeppelin broke out of hard rock and entered the heavy metal scene, giving the genre a darker, heavier tone.
Hard rock also birthed rock/metal bands like AC/DC, Metallica, Megadeth, and Motörhead.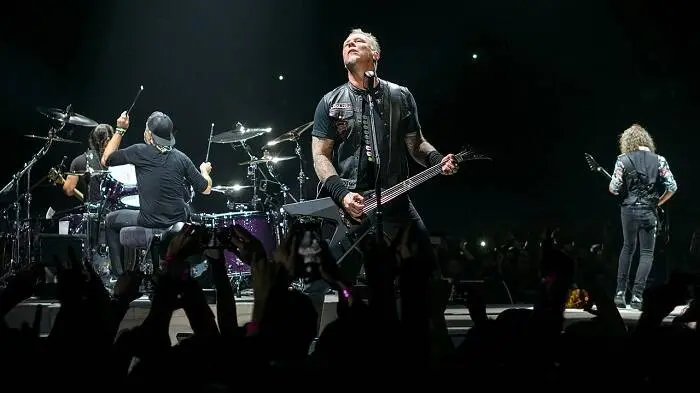 Ozzy Osbourne was another notable figure at the time, and still is. His lyrics, which were mostly about death and war, were screamed over heavy walls of rough music. Today, he's dubbed as the "Godfather of Heavy Metal."
His songs became an instant hit with teens and young adults, nodding their heads and punching the air to the pounding beats of his music.
Pink Floyd spawned the progressive rock movement in the early 70s. By adding psychedelic elements and complex arrangements to their songs, they were able to simplify rock to its core ingredients: rude attitude, loud guitars, and enraged singing.
Unknowingly, this created yet another genre: punk rock.
The development of glam rock followed shortly after, marked by exaggerated makeup, messy hairstyles, outré outfits, and lots of glitters. The genre drew from diverse music sources, ranging from 1950s rock-'n'-rock to 1960s bubblegum pop.
Popular glam rock artists include David Bowie, Roxy Music, and Mott the Hoople.
Although not central to the genre, artists such as Elton John, Freddie Mercury of Queen, and Rod Stewart also adopted glam styles.
Queen's epic rock song, "Bohemian Rhapsody," has been affiliated to genres of hard rock and progressive rock. Bohemian Rhapsody's ultra-experimental music video kick-started the age of MTV music. Today, the song is arguably the most-streamed classic rock song of all time.
1980s
Despite the booming success of mainstream rock in the 1970s, the genre began losing commercial steam in the 1980s. The emergence of electronic dance music and the new wave overshadowed many of rock music's subgenres.
However, rock artists weren't discouraged. They still continued to release albums and singles despite the genre rapidly turning stagnant. Their efforts proved fruitful as rock music, yet again, rose up the ranks and fell back into the spotlight.
Stadium Rock set the tone of 1980s heavy rock music with screaming guitar solos, driving drums, and testosterone-fueled lyrics. The same is said with bands like Black Sabbath and Metallica.
Guns N' Roses stepped out of the shadows and redefined rock with their debut album "Appetite For Destruction." The album received massive commercial success upon its release and became one of the best-selling records of all time.
Alternative rock, also known as college rock or indie rock, emerged by the late 1980s. The genre was inspired by industrial eclectic instrumentation as well as traditional rock-band arrangements of the last decade.
The genre cemented its cultural standing when Billboard created a new chart for alternative rock in 1988. The publication classified the genre as modern rock.
1990s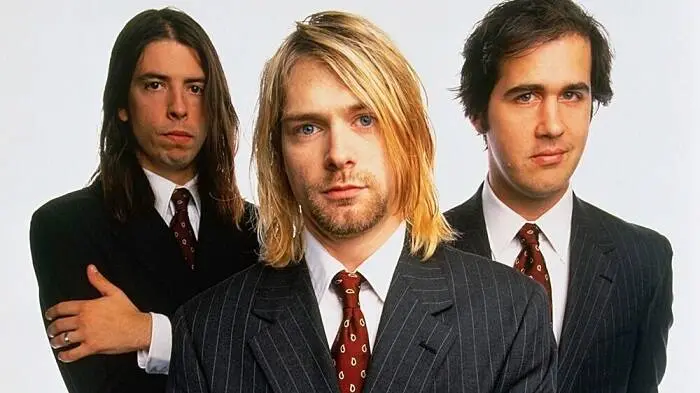 In the early 90s, grunge—an alt-rock genre that fuses elements of punk rock and heavy metal—made an appearance.
Nirvana, The Smashing Pumpkin, and Pearl Jam were three of the most popular grunge bands in the US. They produced sincere, angst-ridden songs with soulful lyrics that demanded to be sung along. Within the first few years of their career, they gained worldwide fame.
American rock band Rage Against the Machine also reached mainstream success. The band's debut album of the same name reached triple platinum status. Their songs were a fusion of multiple genres, including rap metal, rap-rock, funk metal, and heavy metal.
Meanwhile, in the UK, Britpop bands like Blur, Oasis, Verve, and Pulp were dominating the British charts. Radiohead, an alt-rock experimentalist band, was also gaining worldwide esteem.
In 1994, the alternative rock genre took a massive hit following the suicide of Kurt Cobain, Nirvana's front man. Upon the loss of such a brilliant artist, the genre began losing its luster.
This event set the stage for the re-emergence of rock music. Limp Bizkit, followed shortly after by Staind and Puddle of Mudd, capitalized on rock music's comeback through rap-rock, a subgenre that fuses hip-hop's vocal elements with various forms of rock.
Likewise, Red Hot Chili Peppers and Foo Fighters incorporated elements of alternative rock and hard rock into their music to re-energize mainstream rock.
2000s to Present Day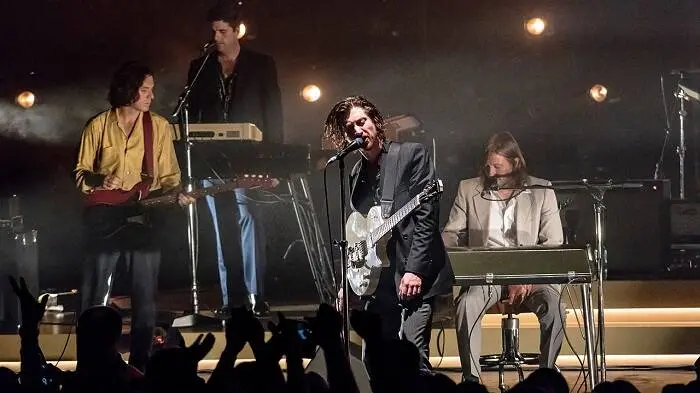 The ascension of the internet did wonders to the rock genre, leading to multiple new styles in the early 2000s.
As musicians were able to easily access the vast library of rock music with a click of a button, they were able to mix elements from the previous decades to the relevant music styles of that period.
The Arctic Monkeys and Arcade Five were some of the first bands to become popular due to the Internet. Their rambunctious, catchy tunes revived the indie rock genre.
In the 2010s, bands like Beach House and Tame Impala fused 60s guitar rock with 90s shoegaze, creating a new-age version of psychedelic rock. At the same time, Bon Iver and Surjan Stevens found their niche through indie folk-rock.
Towards the end of the 2010s, Angel Olsen, St. Vincent, and Lana Del Rey were creating some of the finest rock pieces of the period.
By the early 2020s, rock is still as popular as ever. Although it lost its number one spot on the musical genre list, it's still relevant even today.
Modern rock artists include Panic! At The Disco, Machine Gun Kelly, Imagine Dragons, and Twenty One Pilots.
Popular Rock Music Subgenres
Although the subgenres of rock wildly differ from each other, they're connected by a single common thread: the pentatonic scale.
Rock music—most of it, at least—greatly emphasizes the pentatonic scale, which contains five different tones. It also usually follows a verse-chorus form with a 4/4-time signature.
Here are some of the most popular subgenres of rock music:
Rock-'n'-Roll
Rock-'n'-roll, also known as 50s rock, is a lively combination of jazz, blues, and boogie-woogie. It's characterized by fast, driving beats with a lot of syncopation.
Apart from electric guitars, rock-'n'-roll emphasizes the combination of drums and vocals. Classic rock-'n'-roll is usually played with two electric guitars—one lead and one rhythm—a double bass, and a drum kit.
Blues Rock
As you may have guessed, blues-rock was inspired by the blues tradition. It was most popular in the 1960s, a time where rock music was developing into a modern sound. Along with hard rock, blues-rock was the core genre played on album-oriented rock radio in the US.
Some of the earliest blues-rock artists were Jimi Hendrix, Stevie Ray Vaughan, Eric Clapton, and B.B King.
Heavy Metal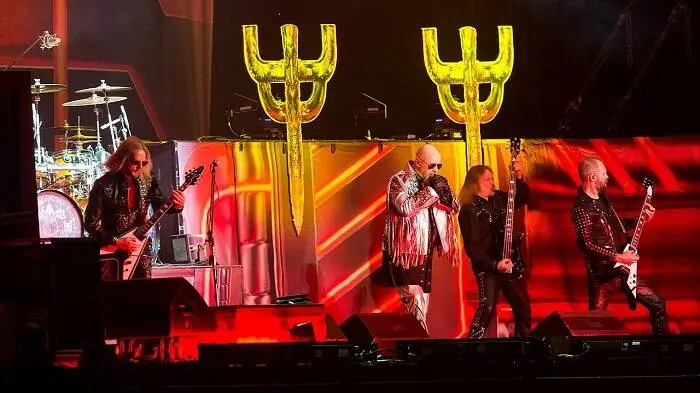 Traditionally characterized by extended guitar solos, distortion, loudness, and emphatic beats, heavy metal is often associated with machismo and aggression. It developed in the late 1960s and early 1970s, with roots in psychedelic rock, acid rock, and blues-rock.
The pioneers of heavy metal were Black Sabbath, Led Zeppelin, and Deep Purple. Bands like Judas Priest and Iron Maiden also helped shape the identity of heavy metal. Modern heavy metal bands include Avenged Sevenfold, Bring Me the Horizon, and Deep As Ocean.
Punk Rock
Punk rock developed around the same time as heavy metal, with its biggest contributors being The Sex Pistols, The Dead Kennedys, and The Clash.
Although it's as loud and energetic as heavy metal, punk rock greatly differs musically. As opposed to metal's virtuosic complexity, punk rock prefers basic sounds and raw emotion.
Today, punk rock is one of the most popular rock music subgenres, especially with younger audiences. Modern punk rock artists include Blink-182, Fall Out Boy, and Paramore.
Christian Rock
The birth of Christian rock dates all the way back to the late 1960s. It generally focuses on matters of Christian faith, with an emphasis on Jesus and Christian virtues.
Bands that perform Christian rock almost always have ties to contemporary Christian music labels, festivals, and media outlets.
One of the biggest pioneers of Christian rock is Larry Norman, who was often described as the "Father of Christian Rock Music." The first commercially released Jesus rock album was his 1969 album Upon This Rock.
Indie Rock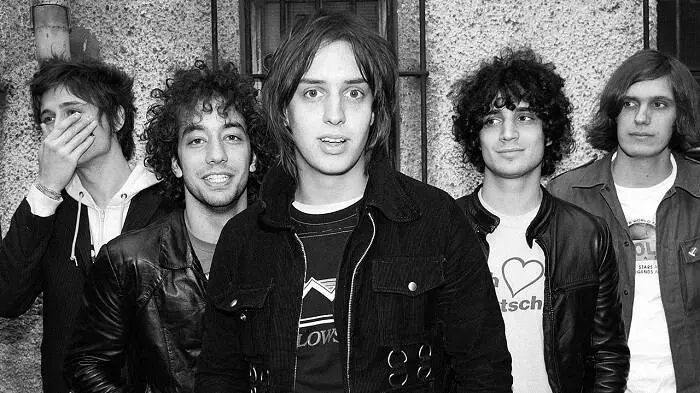 Indie rock emerged in the 1970s. Originally, the genre was used to describe independent and less-known record labels. However, it quickly became associated with alternative rock or guitar pop-rock as more and more indie labels appeared.
Indie rock is a stripped-down, back-to-basics version of punk rock and guitar rock. In the early 2000s, the genre received worldwide influence through bands like The Hives, The Strokes, The White Stripes, and The Vines.
Glam Rock
Developed in the early 1970s in the UK, glam rock is a musical subgenre that features brash guitar riffs and stomping rhythms.
Glam artists often wore flamboyant clothing and visually appeared androgynous, with both men and women wearing exaggerated makeup and hairstyles.
Electronic Rock
Electronic rock features a combination of rock music and electronic music. It emerged in the late 1960s when rock bands began incorporating styles of EDM and electronic instrumentation into their music. This includes synthesizers, tape music, mellotrons, and electric guitars and drums.
Progressive Rock
Progressive rock, also known as symphonic rock or simply prog rock, stemmed from 1960s psychedelic bands who abandoned standard elements of pop music in the genre.
Prog rock bands like Boston and Kansas favor instrumentation and compositional techniques associated with folk, jazz, and classical music.